A message from the allure lounge staff:
As our staff and other players continue to enjoy the Endwalker expansion, we here at Allure Lounge have decided to take a break from weekly openings. Not only because we would like to give our staff a much-needed break, but because the servers are much too unstable for us to allow guests in our house at this time. We would hate to invite guests and have them be stuck on our server, cause errors from an overflowing house, have our staff experiencing lag during performances, etc. We are looking forward to opening up again soon at the end of December, as things become more stable for all of us. We miss you and happy adventuring! - AL Staff.

LOCATION: WARD 9, PLOT 33 LAVENDER BEDS | ULTROS SERVER | OPEN FRIDAYS, LINE BEGINS AT 8:30PM EST - 11PM EST (OR LATER)
next saturday open: end of december
Welcome to the Allure Lounge. The Allure Lounge has been a representation of the Primal social scene for 4 years. Featuring a variety of live performances, upbeat music, world-class service, and a welcoming atmosphere, we have created the premier destination for those looking for an exciting evening. With music genres from hip hop, top 40, urban, Latin, we have something to please everyone's taste. The music is even tailored to our special themed events happening once a month! The Allure staff truly believes that it is the clientele that makes a great nightclub. We've captured something special that attracts an open-minded, up-for-anything, and above all, incredibly friendly crowd. We try to ensure you will have an experience unlike any other! Join the line for the night of your choosing, or arrive in style as a VIP, or even bring your friends and have a bottle service experience to remember. We'll see you on the dance floor!
vip guest of the month: ????
get in the mix with dj saina
live on allure lounge fm
catch our resident dj saina on allure lounge fm weekly. be sure to put your requests in our request log in our discord if you have songs you'd like to be played! tune in, dance, drink and enjoy!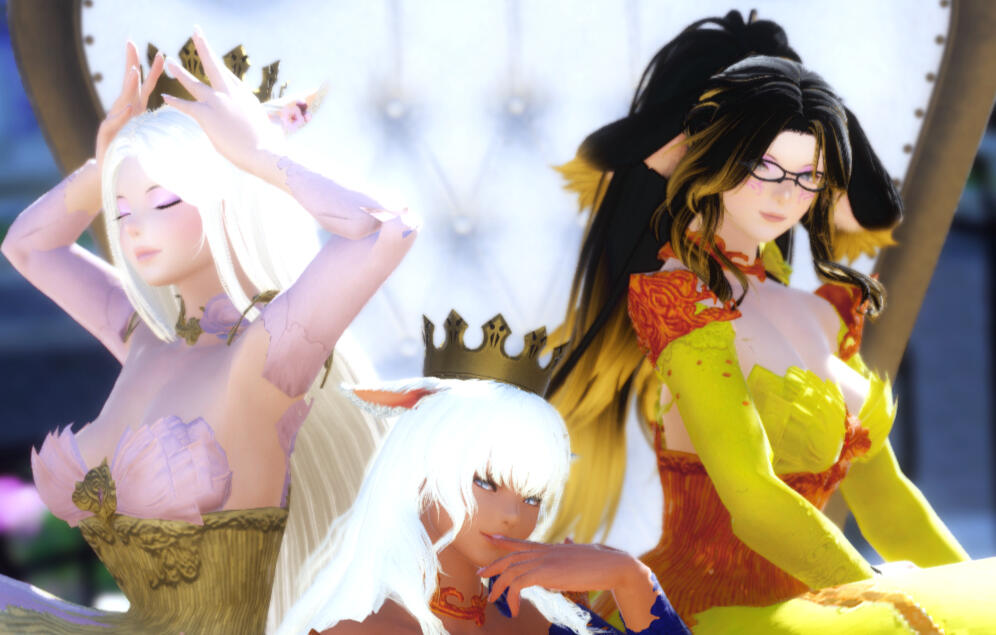 want to catch a live show? Check back here to find out when the ladies of allure, our dance team, are performing at the allure lounge.

next live show: december 1st
UPDATE: 10/3/2021
WE'VE REVAMPED OUR BOTTLE SERVICE
UPDATE: 11/28/2021
OUR BOTTLE SERVICE IS NOT AVAILABLE AT THIS TIME.
JOIN US FOR A LUXURIOUS PARTY LIKE NONE OTHER AT THE ALLURE LOUNGE. ALLURING VIEWS, TOP SHELF BOTTLES, PERKS! CHECK OUT OUR BOTTLE SERVICE LIKE YOU'VE NEVER EXPERIENCED IT BEFORE. LET'S MAKE IT A NIGHT TO REMEMBER.
next sign up date: RETURNING IN 2022!
become an allure lounge vip
exclusive perks, skip the long line, discounts, and more! support the lounge and get the vip treatment while you party. available for purchase on the first and second week of every month.
first time?
Let us be the first to welcome you to allure lounge! if you're wondering what you'll need to have the best time at allure lounge...
x arrive early if you can! the line starts at 8:30pm est, but some guests arrive much earlier.

x curious what to wear? casual attire is always best! however, we do have fun themed events where we have an (optional) dress code in place. check our discord for in-depth announcements every week.

x tune in to our radio station allure lounge fm. tuning in will get you the best experience to dance the night away.

x bringing friends? consider booking bottle service for an evening to remember. let the drinks and memories flow.
Full Staff List:

Catanya Elise: Owner/Lady of Allure/Choreographer/Website Designer/Decorator

Gabriel Tenma: Lead Receptionist/Hostess/Lady of Allure

Blaire Ciel: Waitress/Lady of Allure/Costume Designer for Ladies of Allure

Fox Creed: Service Manager/Menu Designer/Bartender/Lead Lad of Allure

Kela Moonglade: Lady of Allure/Waitress/PR

Saina Moonglade: Lad of Allure/Lounge DJ/Bartender

Lounge Security: Allure Lounge Security Team Head

Oliver Faulkner: Waiter/Lad of Allure
The Allure Lounge is not hiring at this time - thank you!
TIME UNTIL THE MIX BEGINS:
UNTIL THEN, WE HAVE PREOPENING MUSIC AND ANNOUNCEMENTS GOING ON FROM 8:30PM-9PM EST.
welcome to allure lounge fm, allure lounge's official radio station.

to join in on the fun, simply press the play button.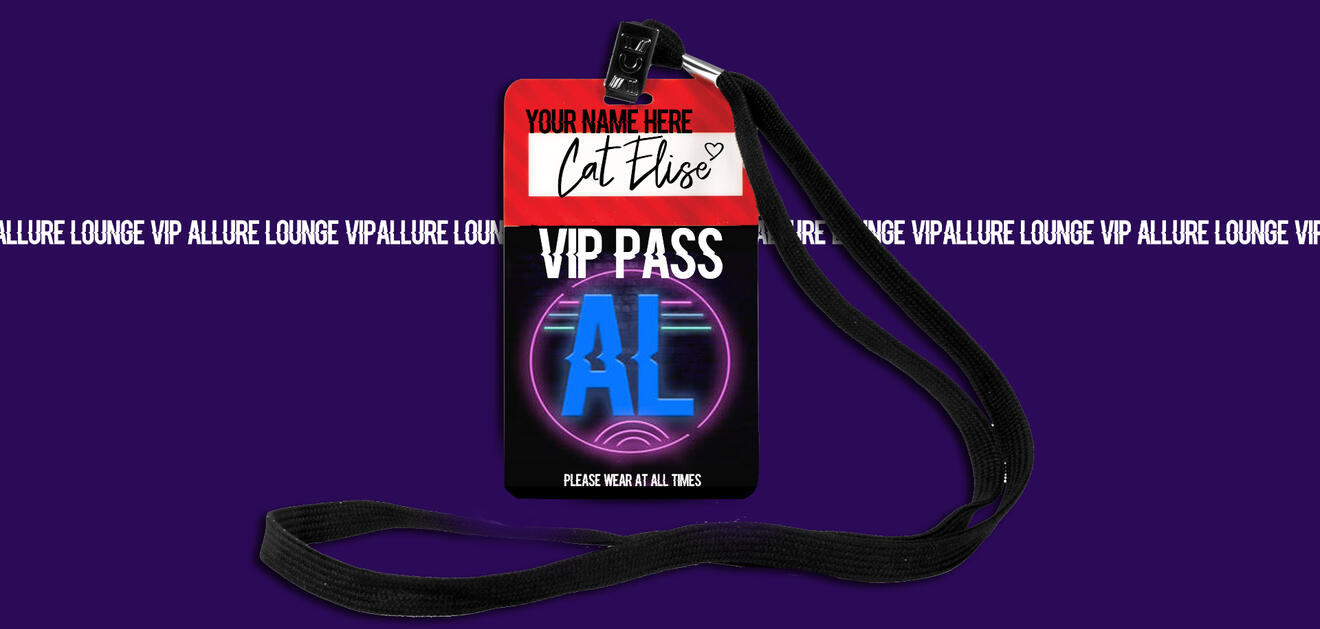 Next Available Sign up date: October 8th, 2021
vip guest of the month: ?????.


This membership includes:
Early entry every week to the Allure Lounge. Skip the line!

A monthly subscription to Allure Lounge VIP.

An exclusive discount to all bottle service packages. We've recently revamped our bottle service. Be sure to use your benefits and check it out at a discounted price!

Double entry to our radio station/jackpot raffles. (We give away 1 million gil all the time!)

50% off of drinks and food purchases for you whenever you visit the lounge. (Be sure to let us know that you're a VIP so we can verify!)

Exclusive VIP Cardholder Discord role.

Exclusive month to month benefits, just for being our VIP. Such as: exclusive performances, discounts, being in the know about themed nights first + more!

Be entered into our VIP of the Month drawing every single month you're a member, for a chance to win 1,000,000 gil + a free bottle service booking.
Welcome to Allure Lounge's premium bottle service. We've recently revamped our services for a luxurious, authentic nightclub experience. Whether you're celebrating a birthday, an eternal bonding, or just a night out with friends, join us for an experience to remember! Our old method was to have "standard" bottle service, and "premium" bottle service. Now, everything is all premium, all the time. We want to provide you with the best possible service for you and your friends. Come and see what all the hype is about!
👑The Features:👑
Skip the line and head in first as our guests of honor.

High-class bottle service for you and 5 friends.*

Be escorted to your private loft booth by our security team, equipped with a hot tub and luxurious seating for 6.

Enjoy a skilled display of our top-shelf bottles, mixed right in front of you.

Included with your deposit: One round of drinks with mixers, and one round of appetizers for your group.
2 song requests from your group delivered to DJ Saina and played on Allure Lounge FM.

Balcony access above the dance floor with private entry and exit.
Choose your desired waitress for the evening. It's all eyes on you and your crew for the evening. We'll keep the drinks flowing!

Drinking games played upon request with your hostess. Let's take some shots!
👑 PRICING | DEPOSIT PRICE: 500,000gil | VIP SPECIAL DISCOUNT: 350,000gil | 👑
Included in deposit: 1 top shelf bottle of your choice, 1 appetizer round for you + your guests, and all the perks you see above. Additional cost required for purchasing multiple rounds.
Additional Accommodations:
Every extra round after the first: +30,000gil per round of service. We'll keep the drinks flowing as long as you'd like!

* = Bringing extra friends?: We require notice for groups over 6 total. An additional fee of 10,000gil will be charged for each additional guest, and a premium add-on of 100,000 will be added on for groups 10 and over.

Please leave us a note if your booking is for a special occasion such as a bachelor/ette party, a birthday, etc. We'd be happy to make any accommodations for you with enough notice. Thank you!
Friday, November 12th SOLD OUT

Friday, November 19th SOLD OUT

[Due to endwalker release, we won't be accepting any more bottle service bookings into december until we plan our december schedule. Thank you!]
* For Email Address Input: The nature of the form requires us to ask for an email address, but please do not feel required to give us your actual email address. You may wish to put a fake email if you so desire, such as "allureloung@ffxiv.com" to get the form to register. Thank you! - AL STAFF.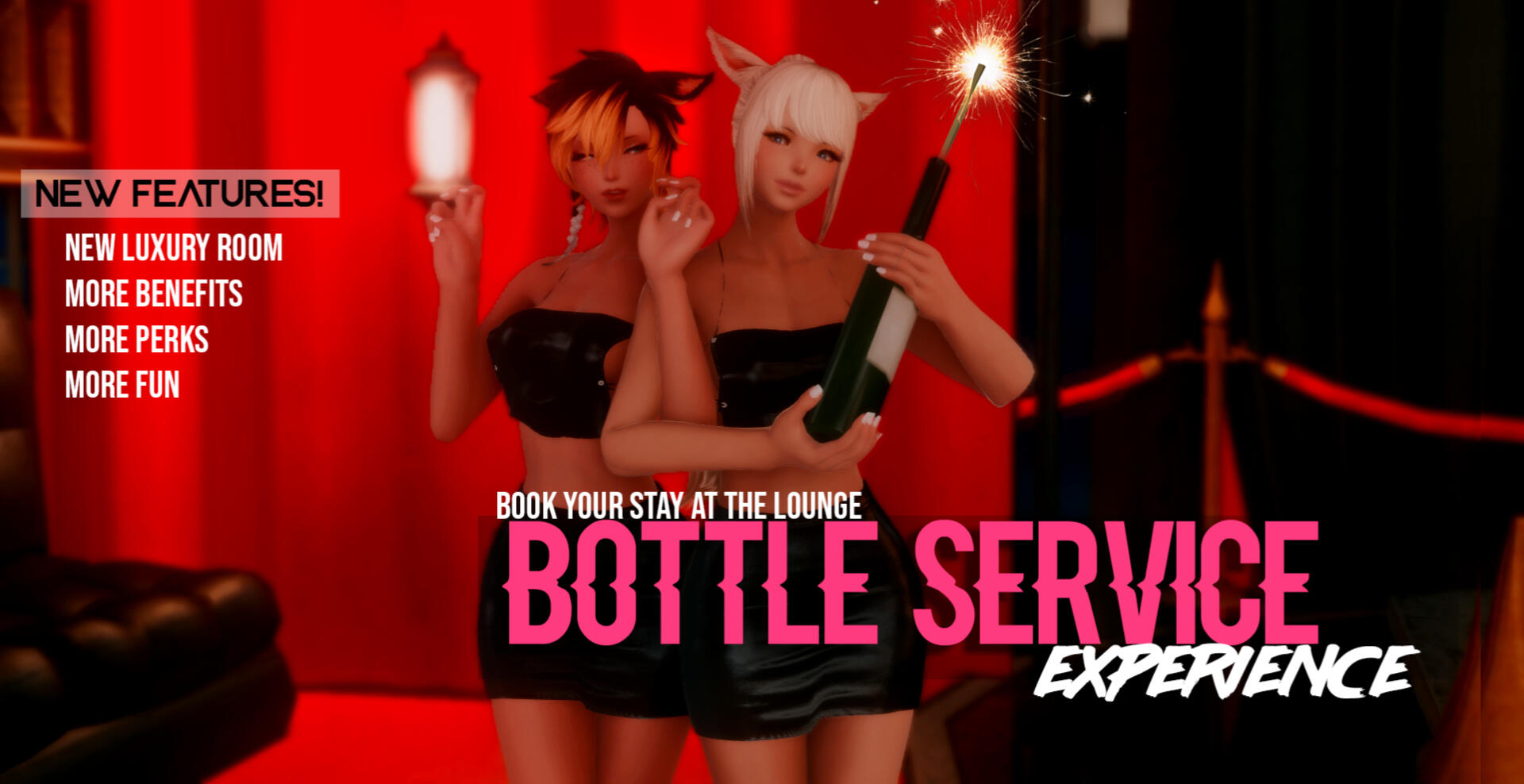 FINAL AMOUNT:
19,160,000GIL
As of: 1/1/2021 2:08am EST.
THE ENDWALKER JACKPOT BEGINS. ARE YOU READY?
TICKET PRICE: 50,000gil each.
The rules: For every ticket purchased, we will add a percentage of the ticket cost into the jackpot. One lucky winner will be going home with at least 5,000,000gil, but it has the possibility to be raised to at least much more!

Please visit the front desk during open hours (please do not contact our receptionists outside before the doors open to purchase a ticket), and purchase a ticket. No maximum ticket purchase enforced. All Allure Lounge VIPs will automatically have 1 ticket entered into the drawing. The raffle will be announced at around 2:30am EST, but we will be stopping all ticket purchases at 2:00am EST. Please be sure to stick around for the drawing. We will not be taking entries during performances. The number will update throughout the night. Take a look at the "last updated" time to see how current the total is.

You must be present to receive your prize. Meaning: You have 60 seconds to come to the stage and accept your jackpot. Friends are not allowed to accept it on your behalf under any circumstances. No exceptions. If the winner is not present, we will redraw the winner. Thank you!
This menu is best viewed on desktop, if on mobile and having trouble viewing, please turn your phone to Landscape mode for a better viewing experience.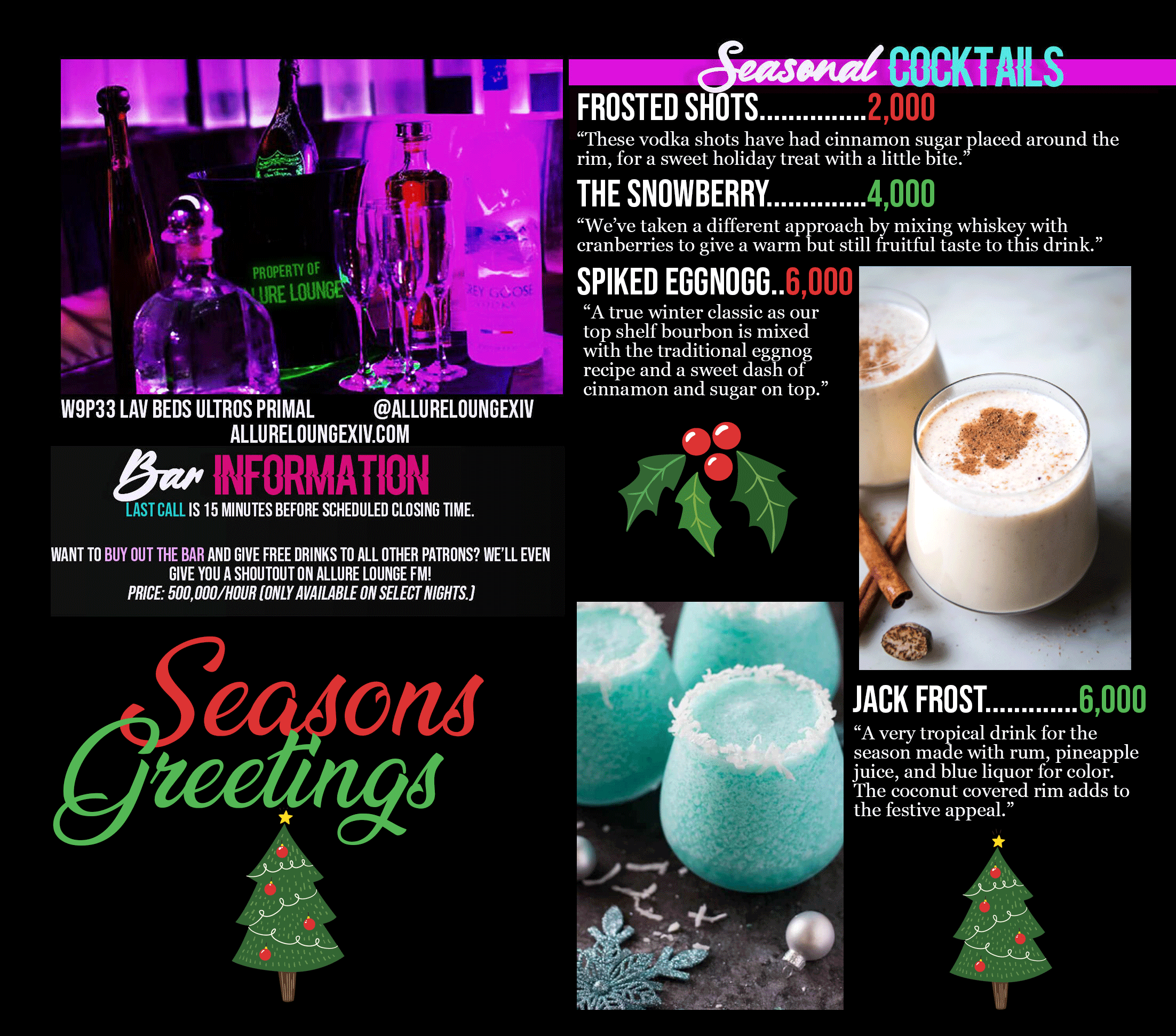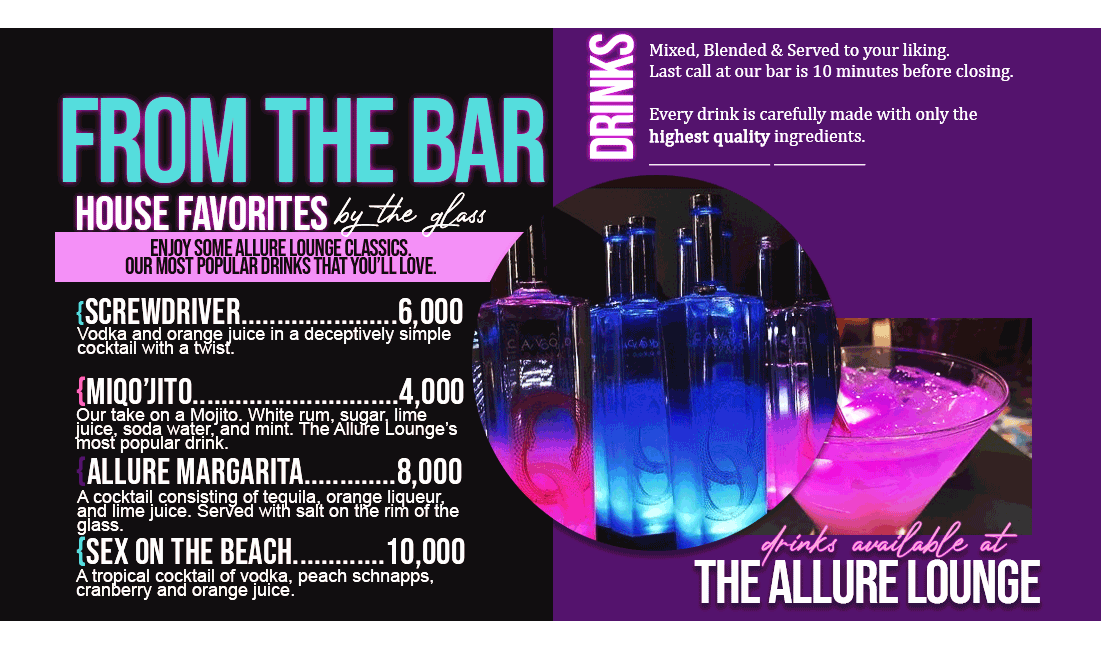 SEASONAL DRINKS
jello shot............................................2,000
A well-loved classic for any occasion, a simple shot glass of jello made with vodka.
Frozen Margarita..............................4,000
A great way to beat the heat. We've frozen our margarita's overnight, blended them, and added salt and lemon to the drink just to make it even better.
Berry Vodka......................................4,000
A sweet but tart drink made simply of vodka mixed with various berries, mint, and a dash of lime.
Sunshine Sangria..............................10,000
The special for the season. Our sangria is made with top shelf red wine mixed with fresh apple slices, blueberries, pineapple juice and sweetened with orange juice.